About Delta Thermal
|

What We Do
Delta Thermal offers a simpler, more effective way to monitor powerplants and substations to fix issues before things break. Our unique solution uses thermography cameras, sensor data, and artificial intelligence to automate the 24/7/365 collection of thermal data. This helps electric power producers improve their operations and save working capital.
Our mission is to prevent unplanned shutdowns, create a more reliable grid, and create a safer environment for team members and communities.
Our substation monitoring systems offer a modern solution to replace inefficient monitoring practices that many substations are still employing. Some of the benefits include:
Integrity
Upholding a high level of trust earned over decades, Delta Thermal's founders are thorough and thoughtful about everything they do. They are approachable, accountable, and always seeking an even better way.
Leadership
The co-founders of Delta Thermal identified a critical need within the energy production and distribution community, to anticipate and prevent potential harm caused by natural events, accidents, or intentional attacks. In response, they created a simpler, more effective way to monitor power plants and substations for safety.
Safety
Delta Thermal's leaders believe people deserve products that address their concerns for living well and provide reassurance that their cities, towns, and neighborhoods are safe and secure from harm.
Innovation
Delta Thermal was founded on the conviction that the power industry needed a better way to monitor thermal activity and created a solution that improves both effectiveness and return on investment by empowering pre-emptive actions to avoid breakdown.
Co-founders Andy Griffis, Ph. D., and Cloud "Sonny" Cray identified a critical need to keep people safe in the energy transmission & distribution industry. Leveraging their experience in remote sensing and surveillance, camera technology, real estate development, and military security, the founders' innovative ThermalSafe software helps teams efficiently monitor thermal data and pre-empt potential problems.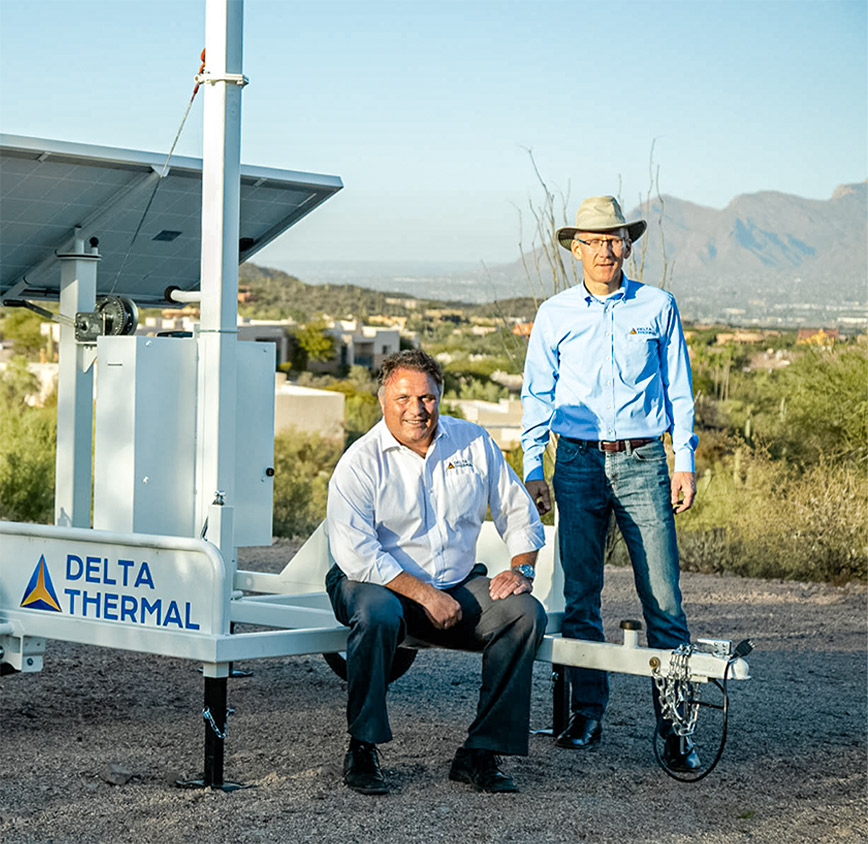 Dr. Andrew Griffis is an experienced executive who has been developing remote sensing solutions and growing businesses for more than 25 years. He brings a broad range of electrical engineering and camera technology experience to Delta Thermal's mission, including leadership in active electro-optical systems for 3D under-water imaging, thermal infrared imaging, near infrared 2D/3D imaging, passive microwave imaging for geoscience, and handheld biometrics for fingerprint recognition.
In addition to founding Delta Thermal, Dr. Griffis is Chief Executive Officer and Founder of The Sensor Group, LLC, serving rugged embedded and OEM imaging sensor applications, including production cores for 3D image capture. In 2008, he co-founded Strongwatch Corporation to address opportunities in land-mobile and perimeter security and surveillance applications based on stabilized gimbals and multi-spectral human detection.
Earlier in his career, he co-founded Avisere Inc., a video analytics company focused on commercial applications of human detection and tracking, and worked as a corporate engineer developing 3D imaging systems for airborne applications.
Dr. Griffis earned his doctorate degree in electrical engineering at University of Massachusetts Amherst, and master's and bachelor's degrees in the same field from Marquette University and Milwaukee School of Engineering respectively. He lives in Tucson, AZ.
The move to Delta Thermal was a return to the surveillance industry for Cray, who previously co-founded and served as Executive Vice President of Business Development/Chief Operating Officer at  Strongwatch Corporation, where he contracted with systems integrators, industry agents, and partners.
Cray's gifts for coaching and growing business relationships into multi-million-dollar partnerships make him an invaluable asset to achieving corporate goals. Among earlier career highlights, he was a President's Club Performer with Automated Data Processing (ADP); reached #73 on Inc. Magazine's list of 500 Fastest Growing Companies as President, Franchisor, and 100% owner at Philly's Finest, Inc; and, as a 50% partner in TNS, LLC, was the number one developer of Family Dollar stores nationwide in two consecutive years.
Cray is a father of five and resides in Tucson. He is a graduate of St. Lawrence University, with a bachelor's degree in English,  and serves on the Board of Directors at Felicia Farms, a local non-profit organization that directly feeds Tucson's most vulnerable.
Sonny Cray is a seasoned leader in sales, business development and business management across a broad range of industries and offerings. He has been a successful business builder for more than 30 years. Cray has a background in real estate development and joined Delta Thermal from Cray Enterprises, a real estate investments company he founded in 1995 and where he has developed $245 million in transactions to date.
Upgrade Your Substation Monitoring
If you're ready to ditch the thermal gun and upgrade to smart real-time monitoring for your substation, Delta Thermal is here to help.
Contact us today to learn more about our infrared monitoring solutions.